The Eighties Renaissance
From the mid-1970s until the very early 1980s, pop music on the radio was bad. Horribly bad. Putrid, one might say. Disco gained legitimacy. Hard rock donned faceless metal androgyny. Country crossed over into ultra slick banalities. And because at that time radio airplay led the way directly to sales, and since Awful was the name of the game, nothing good got marketed to radio stations. (For an excellent analysis of the seamier motives behind this condition, check out Fredric Dannen's Hit Men.) That's one of the main reasons that punk and new wave struck people's senses awake like clean beach morning air. But no stations outside of college radio ever played The Clash, the Sex Pistols, The Ramones, The Adverts, The Slits, X, Richard Hell, Elvis Costello, or any of a thousand loud and lesser known talents. So people in America who wanted good music enough to listen hard for it found the punk and new wave tunes at the homes of friends, in nightclubs, and in the few record stores that carried them. Such efforts built a tight and regrettably insular community of fanzine writers, groupies, and aspiring band members. It did not build an overwhelming array of great music. When Blondie becomes the new wave's claim to break-out glory, then the cure for music's ills may not outlast the larger system's ability to mutate.
Or so I thought until I heard the first Pretenders' album.
Michael Jackson. Off the Wall. Epic. 1979.
The cognomen "King of Pop" is as appropriate to Michael Jackson as to anyone. He was around on the charts as long as was Elvis, and, like the other King, he got in trouble for the way he danced. Like the other King, Jackson was accused of not knowing whether he was black or white. There were bizarre rumors of liaisons with celebrities, accusations indicative of a love-hate thing with the media. There were suspicions that the people close to him might be pulling the strings or the triggers, manipulating the image, if not the talent. If that wasn't reminiscent of Presley, then dying certainly was.
After the goose-bump water slide of

"Don't Stop Til You Get Enough

" and the tingling shadow punch dance moves of

"Rock with You,"

even the "light rock" ecstasy of

"She's Out of my Life"

feels not only appropriate but perfectly natural--essential to this album's intentional formula. If you're looking for dance music that'll make you forget how much you hate disco, or simply an album that sounds as if it was recorded last week, this is the one to get.
Joan Jett. Bad Reputation. Boardwalk. 1980.
Imagine a teenage fossil unearthed by seismic fissures just as its remains have mutated to heave forth volcanic spew. Jett must have known it, too. Why else would she have paid for the domestic pressings herself after failing to grab a major contract? The first song here was a brilliant and sneaky reworking the The Angels' otherwise horrible "My Boyfriend's Back." "I don't give a damn bout my bad reputation," Jett growls, and we believe her, despite the sound of "Hey lah, hey lah, my boyfriend's back," a sound that isn't actually there, but it's impossible not to hear it. Despite author credits on the

title track

and four other songs, Jett started out the way she ended, covering lots of youthful favorites, breathing new life into worn cliches, trading gender roles, paying homage. Leslie Gore's

"You Don't Own Me"

sounds at least as good as the original, especially since it's obvious that Joan isn't talking to some Junior Prep College Nerd; she's talking to someone who looks a lot like David Lee Roth, except with no sense of humor. Ditto the Isley Brothers'

"Shout"

and Sam the Sham's

"Wooly Bully"

--she's so happy to be singing these tunes, you just know she's got her legs in the air and her fingers reaching for the ceiling. On Gary Glitter's

"Do You Wanna Touch Me,"

she out-stomps the greasy fat man and for one brief, miraculous moment comes on to both boys and girls without sounding specifically like either. Just standing on a stage, motionless, Jett glowed like a radioactive statue. On this album, she dressed her femininity in tough guy attitude that even today would terrify would-be ingenues like Mariah Carey, but sure does rivet real life singers like Lady Gaga.
Kurtis Blow.

"The Breaks."

Mercury. 1980.
The outre hip and miserably young critics plying their flattery these days refer to Blow as old school, a condition that says more about their mental programming than it does about the synthetic drums used to propel this number. Even though I'm assured this is actually a compliment, it's still irritating because the best thing about early rap was its primitive arrangements. I'll take someone who can scratch and toast like Blow over the far less musical Kid Schlock any day. So, fine. Call it whatever. But don't call it the first rap single, because you'd have to go back a lot farther.
The Pretenders. The Pretenders. Sire. 1980.
Despite some very strong music on and off the airwaves, a colossal wreckage of pubescent pap and even mature music lacking both form and substance throbbed and croaked with less effort than a dead frog. My copy of K-Tel's compilation Power Play, released at the same time as this album, indicates the sad state of affairs. Pat Benetar, Journey, Little River Band, Cliff Richard, The Knack, Andy Gibb, The Brothers Johnson--if you can imagine how horrible it is to have all these people together on one album, then you have a pretty fair idea of what early Eighties radio kept trying to sound like.
Thankfully, a few gifted enthusiasts, such as The Pretenders, refused to bow out gracefully. This debut album may have lacked the emotional sophistication of Learning to Crawl, but it lacked nothing in the way of nerve and dog collar excitement. While every song here kicks somebody's ass, the most bruising are

"Precious"

(wherein Ms. Hynde rebukes herself for telling people to fuck off),

"Stop Your Sobbing"

(heartfelt encouragement for the betterment of the singer rather than the crier),

"Space Invader"

(an anachronism today, but still the only song I've ever heard that sounds like a video game while remaining enjoyable), and, of course,

"Brass in Pocket"

(a song so desperate in its attempt to convince itself of worthiness that only someone lacking a pulse could resist it).
Blue Angel.

"Maybe He'll Know."

Polygram. 1980.
Blue Angel is memorable as Cyndi l
Lauper's first band and for their infectious near-hit, which Lauper turned around and recorded all over again as a solo artist. The remake shimmered like the compressed after-effects of a struck gong. The first time around was better, though, because with her musicians, Lauper created a song that was still heavy with low-tech synths, meaning it packed a serious homemade track that jumped right out in the room and spun everyone within earshot onto a trampoline.
The Bus Boys. Minimum Wage Rock 'n' Roll. Arista. 1980.
These guys were one of the real treats of what was then the new decade. Five African Americans and one Hispanic who together bounced out an R&B influenced assault that was occasionally hilarious.

"Johnny Soul'd Out"

is one of the greatest modern revamps of Fifties stereotypes, accusing a brother of selling out for leaving the church and making a big $75 a week in the secular world of rock. Also grand is "There Goes the neighborhood," offering up paranoia about the problems they'll encounter when Whitey moves next door. By the early 1980s, other nouveau r&b acts softened their sonic edge and applied whatever toughness they feigned to their image. Along with another great group, Fishbone, the Busboys never made the mistake of underestimating their audience. And it cost them.
REO Speedwagon.

"Keep On Loving You."

Epic. 1980.
I'm just as surprised as anyone to find an REO song here. At their inception, the Speedwagon played long-winded power chords without enough enthusiasm to compensate for the overblown pretensions of their conceits. By the time their tires exploded from excessive wear on the concert circuit, REO was exploiting the least appetizing aspects of the metal ballad genre: faceless and simpleminded edgy crooning with boring slick guitar waves. Maybe the transitional position of this song gives it a durability their other recordings lacked. Maybe it was just the one time their vocalist sang with conviction. Whatever the spark, and however contrived, "Keep on Loving You" builds a great argument in favor of foregoing every activity that could possibly take time away from the singer's obsession with his woman. The guitar solo that segues back to the bridge makes the next vocal lines infinitely more potent than they could ever be on the printed page. This song, this one moment of transcendence, is nearly sufficient to wipe out memories of previous and future transgressions.
Donna Summer. The Wanderer. Geffen. 1980.
Initially the queen of disco, Donna Summer tired of being a girl toy for producers Giorgio Moroder and Pete Bellotte. When future mogul David Geffen announced he was starting up his own label, Summer brought her team's track record to the rescue, becoming Geffen's Records first signed artist. Bored with side-long synthetic orgasms and quite accurately suspecting disco was dead, Summer took charge of her own career. The Wanderer is the result of that decision. This album hangs together as a collection of dance rock songs as well as anything released in 1980. The producers still made their presence felt with fuzzy synthesizers and the aural equivalent of spinning mirrored balls, but this album has a muscularity that comes from doing push ups with actual guitars and drums. Best of all, of course, is the high-ride soul voice of Summer, tripping with Alice in Wonderland on the

title track,

chipping through emotional force fields on the single

"Cold Love,"

and bringing out and drowning out the congregation in the high-tech Pentecostal rave-up

"I Believe in Jesus."

While someone like Prince employed muddleheaded religiosity as nothing more than a rationalization for--and enhancer of--hot and cold running sex, Summer sought some form of expiation for the most hedonistic aspects of a musical-life soundtrack that she herself helped create.
AC/DC. For Those About to Rock, We Salute You. Atlantic. 1981.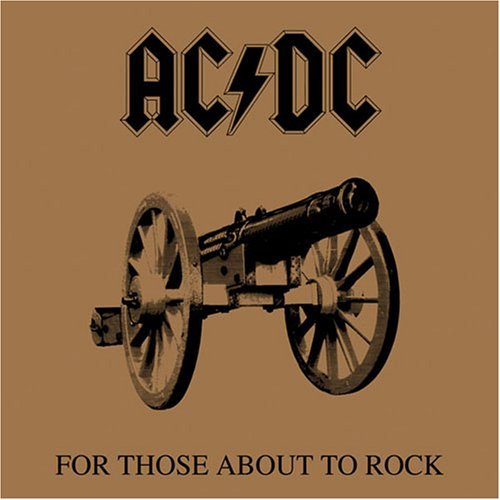 This band always played a steady, loud and self-destructive brand of hard rock which was at least as much due to the occasionally monotonous drumming of Phil Rudd as to the rusty thunder of guitarist Angus Young. With the death of lead singer Bon Scott in 1980, Brian Johnson's never tuneful vocals became the focal point. Mildly ambiguous references to the darker side of the afterlife and an unending slew of sexual innuendo and double entendres, punctuated by a naughty school kid glee put these shakers on the table in countries the world over. The

title track

may well be the best thing they've ever done.
Kim Carnes.

"Bette Davis Eyes."

EMI America. 1981.
Oh, to be young, smart and beautiful, and have your voice around a great lyric as you sit next to a wise producer. Deep down you might hope that you get more great Jackie DeShannon/Donna Weiss tunes, because if you don't, no one will care about the rest.