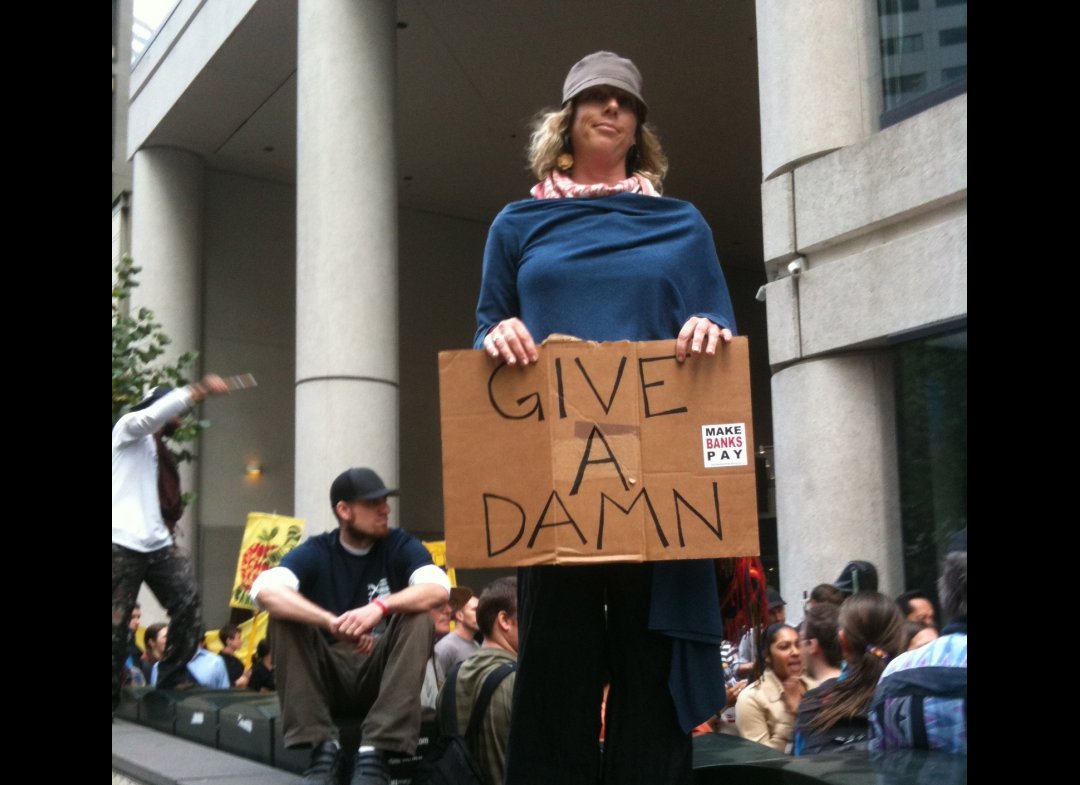 I know you all secretly wanted there to be demands from those good folks who are involved in occupying Wall Street. Well, sometimes movements discover what they are about only after they have bumped into one another a few times. And so it appears to be with OWS. Eli Schmidt of n + 1 has complied with the numerous suggestions that this occupation develop demands. These are the ones he has heard so far. The comments following the italicized "demands" are my own.
1. To repeal the Citizens United Supreme Court decision through a constitutional amendment. Personally, I'm not big on Amendments, but the Citizens United decision was a terrible thing, allowing corporations to buy elections, all in the sense of perverting the concept of free speech. Corporations have been developing the same rights as individual people ever since the end of the Civil War and this just makes that development permanent.
2. To remove the bull sculpture from Wall Street (as suggested to us by a man who walked by dressed as a banker but wearing a noose instead of a tie). Any good social movement needs a sense of humor. As an alternative to smash the bull to smithereens, I might suggest bringing in a cow clad in the stars and stripes and placing the bull in a mounting position, the implication being that the Wall Street Bull is screwing the people of the United States.


3. Some form of debt cancellation (either for everyone or just for students). Every social movement also needs to make demands that will never be met. This is a good example of one. If people insist on things that are extraordinary, sometimes the ordinary gets accomplished. That would be refreshing.

4. Pay-as-you-go military intervention (so that wars could not be waged without Congress agreeing to finance them immediately). As an alternative, I would suggest we simply outlaw war. Then there would be no military excursions needing finance.

5. Taxes on small financial transactions (one version of this is known as a Tobin tax). I do not understand this demand, so permit me to make another one of my own. Institute a progressive income tax and abolish the regressive one currently in place. No one earning less than $50,000 should have to pay any federal income tax at all. Lift the FICA tax ceiling from $106,000 to NO LIMIT WHATSOEVER. You want the system to remain solvent? That'll get 'er done.

6. Full employment. There's no excuse for this to not happen. I myself can think of hundreds of projects that need to be done and deserve to be paid for. However, the only way "full" employment can happen in America is for the so-called profit motive to be balanced against strong incentives for industry to hire American workers. You can use tax incentives. Or you can do what every other country on the planet does: threaten to nationalize the specific industry if certain employment targets are not met. That will get industry's attention.

7. A social wage or guaranteed income (also described as a negative income tax). It's easy to forget that people actually want to work. Giving people money does not make them weak. It fills their stomachs, strengthens their muscles, and enables them to get off the sofa and into the workplace. This is America, dammit! Nobody should want for basic essentials such as food, housing, and healthcare.

8. Universal care centers (for children and the elderly). Right. Except, make it for everybody, just like the rest of the world somehow manages to do without going bankrupt.

9. Reinstating the Glass-Steagall act (a banking reform passed in 1933 and partially repealed in 1980). This is extremely important for a couple reasons. Not only does reinstating G-S-A strengthen the checks on corporate abuses, it also serves as a reminder that since the end of World War II, there have been damned few noteworthy differences between the behaviors of the people representing the two major American political parties. After all, who was President in 1999? Under which administration did NAFTA go into effect? The EPA was created in 1970--who was President then? See, the presumed differences are just total bullshit to keep the suckers arguing with one another while the raiders steal from granny's cookie jar, or retirement fund.

10. Paid sick leave for all working Americans. The cost to employers could be offset or even paid for entirely by government rewards for companies who reach a certain performance level in terms of employees who do not smoke, who UA clean, who are not morbidly obese, etc.

11. Greater political transparency in general. This one seems to me to be in the hands of the people already. I think it is interesting that the OWS have not occupied the interior of the Stock Exchange. I do have a keen suggestion which would certainly spread more media coverage their way. Everyone at OWS, at a pre-arranged time, does a flash burn, meaning each person takes out a one dollar bills and torches it. I know, I know, the cops'll go nuts and there's probably some city ordinance against it, but who cares. Think how the greedy bastards inside Wall Street will react to seeing all that money go up in smoke.