I was happy. You'd be happy too if you had totally by accident stumbled upon what you had been looking for most of your life. Thrilled? Exalted? Lifted in my spirits? Put it this way: I once found a fifty dollar bill in the bottom of a bag of Lay's potato chips. Until I discovered what I'm about to mention, that had been the highlight of my life.
The Channel Islands float between the southern coast of England and the Normandy coast of France.
The inhabited islands of the Channel Islands are
Jersey
,
Guernsey
,
Alderney
,
Sark,
Herm,
Jethou
,
Brecqhou
and
Lihou
, all except Jersey in the Bailiwick of Guernsey. There are also uninhabited islets: the
Minquiers
,
Écréhous
,
Les Dirouilles,
Les
Pierres de Lecq
, and
Burhou
and the
Casquets
.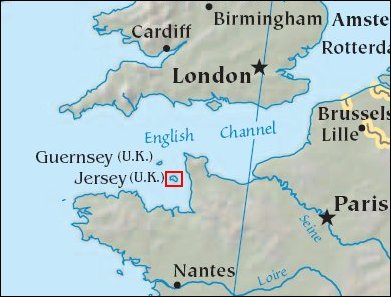 But it is of Jersey that today we speak, if only because it represents my own little piece of paradise on this here madly spinning orb. Jersey and the other Channel Islands are the last of the medieval Dukedom of Normandy that existed in both France and England. These islands were the only British soil occupied by German troops in World War II, an unfortunate mistake but one which I have been assured neither the British nor the Germans shall not repeat. Jersey is a British crown dependency, yet is not part of the UK or of the European Union. However, the UK Government is constitutionally responsible for its defense and international representation. You see, I like the idea that some much larger institution is responsible for things I myself do not care to trouble over, things such as national defense. Also, being a tiny island, we won't likely call any major war powers down on us in response to our own imperialist tendencies, because we won't have any. For that matter, the whole country or bailiwick is only 116 square kilometers or 72 square miles. By comparison, Phoenix, Arizona, where I toil and live, is 1339 square km, or 832 square miles. The people of Phoenix are called Phoenicians. The people who live in Jersey are called Channel Islanders. Which would you rather be? After all, the fact of people calling you an islander suggests you live on an island, which in more cases than not is surrounded by water, almost as if by definition, which would be convenient for swimming, fishing, or staring at from afar.
The population of Phoenix is 3.8 million. The population of Jersey is 94,000.
In Phoenix we are governed by a bully boy who has terrorized the county of Maricopa for nearly twenty years. The state governors are required to be criminally insane so as to not object to the horrible treatment of the citizenry. In Jersey, the government is a parliamentary democracy.
In the U.S. we have eight to twelve national holidays, none of which are celebrated with any particular sense of enthusiasm, other than the Fourth of July, and that's only because people with lots of beer in their bellies get off on watching bombs explode overhead. In Jersey they celebrate one national holiday which they call Liberation Day: May 9, 1945, the day Germany surrendered to the Allies. People there have no trouble remembering that day or its significance.
As in the United States, there are only two major political parties in Jersey. The fact is that in the 2008 elections, 100% of all elected senators and deputies were independents.
The symbol for the United States is the bald eagle. The symbol for Jersey is the Jersey cow.
Our national anthem glorifies wars. Their national anthem, "Isle de Siez Nous" ("Our Island Home") glorifies peace.
Jersey's economy is based on international financial services, agriculture, and tourism. In 2005 the finance sector accounted for about 50% of the island's output. Potatoes, cauliflower, tomatoes, and especially flowers are important export crops, shipped mostly to the UK. The Jersey breed of dairy cattle is known worldwide and represents an important export income earner. Milk products go to the UK and other EU countries. Tourism accounts for one-quarter of GDP. In recent years, the government has encouraged light industry to locate in Jersey with the result that an electronics industry has developed, displacing more traditional industries. All raw material and energy requirements are imported as well as a large share of Jersey's food needs. Light taxes and death duties make the island a popular tax haven. Living standards come close to those of the UK.
The Gross Domestic Product per capita--in other words, the spending power of the average humanoid--in Jersey is $57,000. In the U.S. it is $47,200.
In 2010 the unemployment rate in Jersey was 2.2%. In the U.S. it was 9.6%.
What do people do for a living in Jersey? The main industries are tourism, financial services, and agriculture. In Arizona, tourism and business services now account for nearly 77 percent of the area's total employment. By "tourism" we mean working in a hotel. By "business services," we mean working in a motel.
Perhaps the keenest contrast is in the area of what the Central Intelligence Agency refers to as transnational disputes. Here is what the CIA says about the United States in this regard:
The US has intensified domestic security measures and is collaborating closely with its neighbors, Canada and Mexico, to monitor and control legal and illegal personnel, transport, and commodities across the international borders; abundant rainfall in recent years along much of the Mexico-US border region has ameliorated periodically strained water-sharing arrangements; 1990 Maritime Boundary Agreement in the Bering Sea still awaits Russian Duma ratification; Canada and the United States dispute how to divide the Beaufort Sea and the status of the Northwest Passage but continue to work cooperatively to survey the Arctic continental shelf; The Bahamas and US have not been able to agree on a maritime boundary; US Naval Base at Guantanamo Bay is leased from Cuba and only mutual agreement or US abandonment of the area can terminate the lease; Haiti claims US-administered Navassa Island; US has made no territorial claim in Antarctica (but has reserved the right to do so) and does not recognize the claims of any other states; Marshall Islands claims Wake Island; Tokelau included American Samoa's Swains Island among the islands listed in its 2006 draft constitution.
Here is what the same agency says about transnational disputes in Jersey:

None

.
Hot Topics
Vt. artist: I'll fight Chick-fil-A for my kale

http://finance.yahoo.com/news/vt-artist-ill-fight-chick-141222247.html

MONTPELIER, Vt. (AP) -- A folk artist expanding his home business built around the words "eat more kale" says he's ready to fight root-to-feather to protect his phrase from what he sees as an assault by Chick-fil-A, which holds the trademark to the phrase "eat mor chikin." | Bo Muller-Moore uses a hand silkscreen machine to apply his phrase, which he calls an expression of the benefits of local agriculture, on T-shirts and sweatshirts.

finance.yahoo.com

http://rivals.yahoo.com/highschool/blog/prep_rally/post/100-2-middle-s...

Mon Nov 28 09:07am EST | By Cameron Smith | There are routs, there are blowouts, and then there are epic one-sided losses that would make the likes of Woody Hayes blush. The 100-2 victory by Pikeville (Ky.) Independent Middle School against Kimper (Ky.) Elementary and Middle School at the Pike County Preseason Tournament falls squarely in the last category.

rivals.yahoo.com

http://thehill.com/blogs/ballot-box/house-races/195579-rep-frank-wont-...

Rep. Barney Frank (D-Mass.) will announce Monday that he is not seeking reelection, ending a 32-year career in the House. | Frank, 71, is the top Democrat on the Financial Services Committee and the architect, with former Sen. Chris Dodd (D-Conn.), of the sweeping Wall Street regulatory reform law enacted in 2010. | Elected in 1980, Frank survived scandal early in his career and rose to become the nation's most powerful openly-gay elected official.

thehill.com

Secret Fed Loans Helped Banks Net $13 Billion

http://www.bloomberg.com/news/2011-11-28/secret-fed-loans-undisclosed-...

The Federal Reserve and the big banks fought for more than two years to keep details of the largest bailout in U.S. history a secret. Now, the rest of the world can see what it was missing. | The Fed didn't tell anyone which banks were in trouble so deep they required a combined $1.2 trillion on Dec. 5, 2008, their single neediest day. Bankers didn't mention that they took tens of billions of dollars in emergency loans at the same time they were assuring investors their firms were healthy.

www.bloomberg.com

http://www.haaretz.com/news/middle-east/report-explosion-rocks-iran-ci...

A explosion rocked the western Iranian city of Isfahan on Monday, the semi-official Fars news agency reported, adding that the blast was heard in several parts of the city. | The reported incident occurred about two weeks after Gen. Hasan Tehrani Moghaddam was killed together with 20 other Guard members Nov. 12 at a military site outside Bidganeh village, 40 kilometers southwest of Tehran. | The Revolutionary Guard said the accidental explosion occurred while military personnel were transporting munitions.

www.haaretz.com

http://espn.go.com/college-football/story/_/id/7289592/urban-meyer-joi...

Former Florida coach Urban Meyer has taken the head coaching job at Ohio State, sources confirmed to ESPN on Monday morning. | Ohio State will hold a news conference at 5:15 p.m. ET at the Fawcett Center. | Meyer, who led the Gators to two national championships before stepping down to spend more time with his family amid ongoing reports of health concerns, had worked as a game analyst this season for ESPN.

espn.go.com