Actress Joan Bennett
February 27, 1910: Crowds in Philadelphia attack non-union men operating the streetcars, beating them and the police officers protecting them … F.D. Underwood, president of the Erie Railroad, says: "There is a growing spirit of greed in this country that can only be equal to that of savages" and Pittsburgh Police Superintendent Thomas S. McQuaid opposes brutality under the "third degree" but says taking away the right of police "to question a prisoner would be a menace to public safety."
Film star Emma Stone
November 30,
2011
. Then as now, whenever decent people object to the raping of their wives, husbands, daughters and sons by mercantile bankers, investors and corporate welfare swindlers, those raising the objections are labeled
greedy
. That reminds me of the imbecile I met in Columbus, Ohio a few years back, a woman who tried to slam a door in my face because I was canvassing against the election of W. Bush. She threw the door in my direction and shouted that I was a whiner. I caught the door and started to say that her corporate masters were the ones who whined whenever they developed a hangnail, but the woman's daughter beat me to the punch by turning to her mother and saying, "Mom, you are
so
rude."
World's most expensive shoes: Are you greedy for wanting them or is Nike greedy for selling them?
Greedy
? The folks who have given up huge chunks of their lives to live in tents in municipal parks in bad weather to call attention to the plight of real Americans while breast-suited thugs complain that their filet is overcooked?
Because these breast-suited thugs (just invented that description; I hope it sticks) quiver in terror at the suggestion of putting their pusillanimous posteriors on the line of action, they hire city police departments to act against their own personal and collective interests and send the troopers out into harm's way to bust heads and crack skulls.
To that end, busloads of LAPD officers closed in on the eight-week-old Occupy Los Angeles camp after midnight last night, declaring the hundreds of protesters congregated on the lawn, pavements and streets around City Hall as an "unlawful assembly" and ordering them to disperse or face arrest. [Wanna see the First Amendment to the United States Constitution right about now? It goes like this: "Congress shall make no law respecting an establishment of religion, or prohibiting the free exercise thereof; or abridging the freedom of speech, or of the press; or the right of the people peaceably to assemble, and to petition the Government for a redress of grievances.]
The encampment, which officials had left alone for weeks even as other cities moved in to clear out similar compounds, was among the largest on the West Coast. The demonstration is aligned with the two-month-old national Occupy Wall Street movement protesting against economic inequality and excesses of the US financial system. At least 20 protesters left the area immediately taking with them their tents and other belongings. Others were escorted out by police. At least a dozen people were handcuffed soon after police moved in.
The national economy and unemployment problem is better in Japan than in the United States, yet many people in the crowded environs of that country are likewise outraged. Inspired by the ongoing Occupy Wall Street demonstrations in the United States, thousands of Japanese youth and workers have taken to the streets to demand stable jobs and government reforms. Two weeks ago, a demonstration in Tokyo, billed by organizers as the largest protest in recent years, drew a crowd nearly 5,000-strong. Workers and students across Japan converged on the capital with raised fists and chants of protest as bands played songs about the anxiety and hopelessness in which much of that country is mired.
The current official unemployment rate is five per cent, although among youth the official number has risen to almost nine per cent. In fact, more than 45 per cent of workers aged 15-24 hold irregular jobs and just 56 per cent of new college graduates receive job offers, representing the worst situation for youth in the country since World War II.
Six weeks ago, violence spilled out in Rome as tens of thousands nicknamed "the indignant" marched in many European cities in protest against capitalism and austerity measures. Smoke filled the air in Rome as a small group of violent protesters broke away from the main demonstration. They smashed shop windows, set vehicles on fire and assaulted two news crews. Others burned Italian and EU flags. Silvio Berlusconi, the now-defunct Italian prime minister, said that those responsible for the rash of violence would be identified and punished, not unlike the way his own personal dominatrix punished his royal self, calling the rioting "a very worrying sign for civil society. They must be condemned by everyone without reservation. Those with reservations will, of course, be seated first." Italian police said that at least four people had been injured in the clashes, while the ANSA news agency reported that as many as 70 had been wounded, with three in serious condition. Gianni Alemanno, the mayor of Rome, blamed the violence on "a few thousand thugs" who infiltrated the demonstration.
Map: #Occupy protests across America
Meanwhile, right this very second,
British public-sector workers are on a 24-hour strike, one which organizers say is the biggest walkout in a generation.
The protesters are raising hell (and rightly) over proposed pension cuts. Up to 19,000 schools have been forced to shut down for one day, while many hospital operations have been cancelled along with courts and government offices. Angry over a pension overhaul, which they say will require them to work longer before receiving a pension and contribute higher amounts each month to the account, strike organizers say as many as two million people have stayed stay away from work. The maestro of the mundane, Prime Minister David Cameron, played down the impact of Wednesday's strike, calling it "something of a damp squib." Cameron said forty per cent of schools were open and the main London airports were working properly, neglecting to admit that by his own figures that meant that sixty percent of schools were closed.
Occupy London
Union anger has been fuelled by new curbs on public sector pay and hundreds of thousands of additional job cuts. The measures were outlined on Tuesday when the Conservative-led coalition government cut economic growth forecasts and said its tough austerity program would last until 2017.
Here in the United States, we have the right to peacefully assemble regardless of man or law. We have the right simply by virtue of virtue. I like it that the Constitution backs us up on this, but it would be irrelevant. As human beings who exercise their existential free will, that collective right exists regardless of the words appearing on any document. All the same, the glorious legal document does exist to make sure the country's precepts are spelled out, despite considerable objections to it over the years. In the 1937 Supreme Court case of De Jonge v. Oregon,
De Jonge had been convicted for conducting a public meeting under the auspices of the Communist Party. De Jonge had not advocated any illegal activity or criminal doctrine. The U.S. Supreme Court reversed his conviction as unnecessarily restrictive of his freedom of speech and right of peaceable assembly. The high court's ruling applied the right of peaceable assembly and the right to petition the government for a redress of grievances to the states through the Fourteenth Amendment, putting these rights on equal footing with freedom of speech and the press.
"Peaceable assembly for lawful discussion cannot be made a crime. The holding of meetings for peaceable political action cannot be proscribed." Two years later in the case of
Hague v. C.I.O., the high court ruled that peaceful demonstrators may not be prosecuted for "disorderly conduct." This case also secured streets and sidewalks as public forums.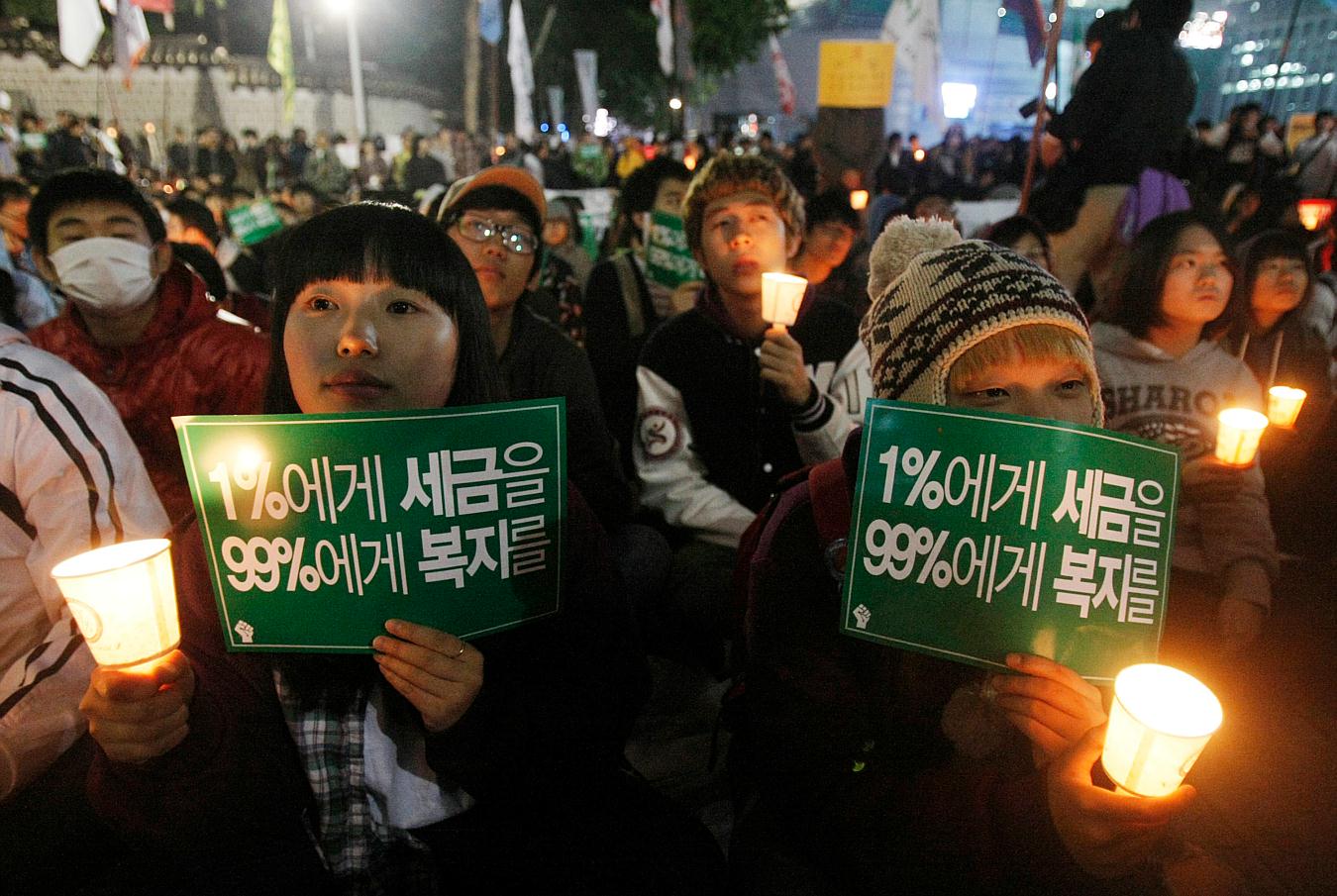 Occupy Seoul
Some people may recall that i
n 1976, the American Nazi Party requested a permit to demonstrate in the strongly Jewish community of Skokie near Chicago.
Town officials opposed the request, with many citizens arguing that the First Amendment should not protect people who preach hate and violence. Other people argued that the First Amendment must be for everyone or else it is for no one. After a lengthy court battle, the Nazis won the right to hold their demonstration. Freedom of assembly protects the right of people to organize in opposition to government policies or for other lawful purposes.
Certainly if the First Amendment does protect the right of a despicable hate group such as the Nazis to march along the streets of an American city in an attempt to encourage persecution of people based on their ethnic identification, then that same Amendment must endorse the freedom of Americans to collectively congregate and object to the open thievery of the hard-earned savings of the ninety-nine percent, to the dastardly stealing of pension funds and investment accounts, to the hideous and immoral evictions of working people from their homes, to the over-burdened college graduates and military personnel, to the typical middle-aged man or woman with no idea what to do about the messed up state of the world. Anyone standing in the way of that free and open expression--knowingly or unknowingly--positions himself right alongside the terrorist bankers and hijacking infidel murderers among the economic elitists. And we say to you men and women temporarily cloistered amid the sterility of your stations that the lights above your heads and beds shall shake from the wrath of those you have so long disrespected and tortured. Hey, who is that you hear at the door? It's your mom, looking for the pepper spray to protect herself from the rest of us.
Statistics Summary for philropost.blogspot.com


There are 1,127,607 sites with a better three-month global Alexa traffic rank than Philropost.blogspot.com. About 93% of the site's visitors are in the US, where it has attained a traffic rank of 142,591. The site is relatively popular among users in the city of Phoenix (where it is ranked #4,052). Its visitors view an average of 6.4 unique pages per day.

What's Hot
The most popular pages on the web right now... according to the
Alexa Toolbar
.
Hot Topics
Hot Pages
Woman "imprisoned" on Scientology cruise ship for 12 years

http://news.yahoo.com/blogs/sideshow/woman-imprisoned-scientology-crui...

But Valeska Paris says she was held against her will aboard the Scientology cruise ship "Freewinds" for more than a decade. During her stay on the vessel, she alleges, she was forced into hard labor and never allowed to leave the ship without an escort. | In an interview with the Australian Broadcasting Corporation's (ABC News) Lateline program, Paris claims that Church of Scientology leader David Miscavige sent her to the ship when she was 18 in order to prevent her family from pulling her out of the ...

news.yahoo.com

Digging into China's nuclear tunnels

http://news.yahoo.com/digging-china-nuclear-tunnels-013008319.html

Digging into China's nuclear tunnels - Yahoo! News Skip to search. New User? Register Sign In Help Make Y! My Homepage Yahoo! Close this window For the most captivating daily read, Make Yahoo! your Homepage Mail My Y! Yahoo! Yahoo! News Search Search Web Yahoo! News - Latest News & Headlines Home News Videos | Watch the latest clips - Yahoo! News Video News Photo Galleries & Slideshows - Yahoo! News Photos GMA Local Odd News Headlines - Yahoo! News Odd News Comics Travel Opinion Trending Now Vitality

news.yahoo.com

Arsenic Found in Popular Juice Brands

http://health.yahoo.net/articles/nutrition/arsenic-in-juice

Arsenic has long been recognized as a poison and a contaminant in drinking water, but now concerns are growing about arsenic in foods, especially in fruit juices that are a mainstay for children. | Controversy over arsenic in apple juice made headlines as the school year began when Mehmet Oz, M.D., host of "The Dr. Oz Show," told viewers that tests he'd commissioned found 10 of three dozen apple-juice samples with total arsenic levels exceeding 10 parts per billion (ppb).

health.yahoo.net

Rep: Kris Humphries Wants to Annul Kim Kardashian Marriage

http://tv.yahoo.com/news/rep-kris-humphries-wants-annul-kim-kardashian...

What's better than a divorce? | An annulment. | Kris Humphries plans to respond to Kim Kardashian's Oct. 31 divorce filing with a counterstrike of his own. A rep for the NBA star, 26, confirms to Us Weekly that Humphries will seek a legal separation from Kardashian, 31 -- ultimately leading, he hopes, to an annulment of their 72-day union. | PHOTOS: Their sexy honeymoon | If Humphries gets his way, the couple will avoid divorce proceedings altogether. | Kardashian and Humphries tied the knot Aug.

tv.yahoo.com

Mindy McCready, son reported missing in Florida

http://wonderwall.msn.com/music/mindy-mccready-son-reported-missing-in...

iamdiddy: No matter how many goals you have achieved, you must set your sights on a higher one. -J Savitch 11:30 am,Nov 30via Twitter | iamdiddy: RT @THEREALSWIZZZ: Sky is not the limit its just the view http://t.co/JhBuixaS RT RT RT 11:15 am,Nov 30via Twitter | KhloeKardashian: Kourtney's got a bun in the oven!!!!!! http://t.co/tyPivuIl11:14 am,Nov 30via Twitter | iamdiddy: RT @oboybump18: @iamdiddy .....twinz!!!!! http://t.co/DIF5Vmjy11:11 am,Nov 30via Twitter | iamdiddy: RT @ClintonSparks There is no

wonderwall.msn.com

Tattoo artist Ryan Fitzgerald from Dayton, OH was...

http://early-onset-of-night.tumblr.com/post/13348728615/tattoo-artist-...

Tattoo artist Ryan Fitzgerald from Dayton, OH was hit with a $100,000 lawsuit last week by his ex-girlfriend Rossie Brovent. She claims that her boyfriend was supposed to tattoo a scene from Narnia on her back but instead tattooed an image of a pile of excrement with flies buzzing around it. Apparently, Ryan found out that Rossie had cheated with a long-time friend of his, but instead of confronting her about it he acted like everything was normal and hatched a plan for revenge.

early-onset-of-night.tumblr.com

http://www.weeklystandard.com/blogs/obama-admin-seals-records-murdered...

The Obama Administration has abruptly sealed court records containing alarming details of how Mexican drug smugglers murdered a U.S. Border patrol agent with a gun connected to a failed federal experiment that allowed firearms to be smuggled into Mexico. This means information will now be kept from the public as well as the media.

www.weeklystandard.com

Bobby Valentine type not for Boston Red Sox early

http://espn.go.com/boston/mlb/story/_/id/7299027/source-bobby-valentin...

A Boston Red Sox official told at least one player at the beginning of the managerial search that they "weren't going to hire Bobby Valentine or someone like that," a clubhouse source told ESPNBoston.com last week. | The conversation suggests that Valentine, known as a no-nonsense manager in stints with the Mets and Rangers over 15 years, was perceived by some as a darkhorse candidate that would not be popular with some players.

espn.go.com

Childhood stick battles - Imgur

http://imgur.com/a/bsTup

Imgur is used to share photos with social networks and online communities, and has the funniest pictures from all over the Internet. | © 2011 Imgur, LLC. All rights reserved. | blogfeedbacksite statsfaqrequest deletioncontacttermsgo proapi | By byuflorida · 1 week ago13,705 views · 10.87 MB bandwidth Embed this album | Advertisement: pro users don't see ads

imgur.com

http://msn.foxsports.com/nfl/story/Four-time-Pro-Bowl-defensive-linema...

Stanford assistant coach and four-time Pro Bowl defensive lineman Chester McGlockton has died. | The school said Wednesday that McGlockton died overnight of an apparent heart attack. He was 42. | A first-round pick of the Los Angeles Raiders in 1992, McGlockton worked for Stanford's football program the past two seasons as a defensive assistant. | "Everyone in the Stanford Football family is deeply saddened by the passing of Chester McGlockton," Stanford football coach David Shaw said in a statement.

msn.foxsports.com

http://www.huffingtonpost.com/2011/11/30/carrier-iq-trevor-eckhart_n_1...

A security researcher has posted a video detailing hidden software installed on smart phones that logs numerous details about users' activities. | In a 17-minute video posted Monday on YouTube, Trevor Eckhart shows how the software - known as Carrier IQ - logs every text message, Google search and phone number typed on a wide variety of smart phones - including HTC, Blackberry, Nokia and others - and reports them to the mobile phone carrier.

www.huffingtonpost.com

http://www.thepostgame.com/blog/dish/201111/roy-williams-rips-north-ca...

It's an unwritten rule in the world of sports that you don't criticize the paying fan. Take cheap shots at coaches, players, officials, media and everyone in between, but those who bear the cost of paying for a ticket are bulletproof. | An exasperated college basketball coaching icon has broken this rule in a big way. | Roy Williams lashed out following North Carolina's 90-80 loss to UNLV over the weekend in Las Vegas.

www.thepostgame.com

US Stocks: Stocks Soar 3%, All S&P Sectors Rally; Vix Slips

http://www.cnbc.com/id/45491598

Stocks eased off their highs but were still sharply higher Wednesday after global central banks announced a coordinated plan to support the global financial system, a handful of better-than-expected economic news and China said it would loosen monetary policy. | The Dow Jones Industrial Average came off its best levels but was still sharply higher, led by Caterpillar | The blue-chip index is back in positive territory for 2011. | The S&P 500 and the Nasdaq also jumped sharply.

www.cnbc.com

Horse meat may be back on the menu

http://bottomline.msnbc.msn.com/_news/2011/11/30/9114827-horse-meat-ma...

Bottom Line - Horse meat may be back on the menu RSS MSN Hotmail More Autos My MSN Video Careers & Jobs Personals Weather Delish Quotes White Pages Games Real Estate Wonderwall Horoscopes Shopping Yellow Pages Local Edition Traffic Feedback Maps & Directions Travel Full MSN Index Bing msnbc.com sites & shows: TODAY Nightly News Meet the Press Dateline Morning Joe Hardball The Last Word Maddow Ed msnbc tv advertisement Recommended: Central banks buy wiggle room, but problems persist Recommended: Horse meat

bottomline.msnbc.msn.com