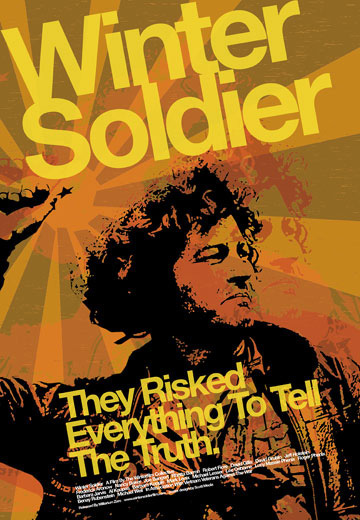 We begin with an excerpt from the opening paragraph of an article published in the March 11, 2012 edition of the
Atlanta Journal Constitution
. "
Moving from house to house, a U.S. Army sergeant opened fire Sunday on Afghan villagers as they slept, killing 16 people — mostly women and children — in an attack that reignited fury at the U.S. presence following a wave of deadly protests over Americans burning Qurans."
Eight days later an article appeared in Slate that began: "
Lynndie England, the former U.S. solider made infamous in 2004 for a photo of her giving two thumbs-up at Abu Ghraib, isn't sorry for how she and her fellow soldiers abused prisoners there. 'Their lives are better,' she [said] in an interview for a story published Monday. 'They got the better end of the deal. They weren't innocent. They're trying to kill us, and you want me to apologize to them?'"
In February 1971, 125 Vietnam Veterans came to a Howard Johnsons in Detroit to give testimony about the atrocities they had either witnessed or participated in while stationed in Vietnam.
It was called the Winter Soldier Project and this filmed documentary of the event will give you nightmares, just as the events described gave the soldiers involved nightmares for years. Unlike the despicable, sanctimonious and rationalizing Ms. England, these men were not proud of their behavior. On the contrary, while not attempting to justify themselves, these men ravage our hearts with stories of how their leaders conditioned and brainwashed them into becoming professional torturers, rapists and mass murderers. The movie is the farthest thing from dispassionate and yet its only commentary comes by way of the occasional gasps, moans and tears from the members of the press and public who had gathered to hear the testimony. To quote from the website for the film: "Though the event was attended by press and television news crews, almost nothing was reported to the American public. Yet, this unprecedented forum marked a turning point in the anti-war movement. It was a pivotal moment in the lives of young vets from around the country who participated, including the young John Kerry. The Winter Soldier Investigation changed him and his comrades forever. Their courage in testifying, their desire to prevent further atrocities and to regain their own humanity, provide a dramatic intensity that makes seeing Winter Soldier (1972) an unforgettable experience."
The beauty--and that is the proper word--of this film radiates in the balance the filmmakers establish between the self-loathing and sudden liberation of the men testifying against themselves and the actual victims of these horrors. The men are shown in black and white. The victims in living color. This balance does not exist today, of course. Today the accused killer of the sixteen Afghans receives media coverage while his alleged victims remain nameless entities, simply today's version of gooks, slopes, krauts, japs and coloreds.
My father served in World War II. He was in what was at the time called the Army-Air Force. Until his dying day he could not quite understand what was supposedly different about the Vietnam experience. My dad spent most of the war in the Pacific and saw more than his share of brutality, most of it random and anonymous. But because he did not undergo conditioning geared to brutalize himself and dehumanize the enemies, he could not conceive that such a thing had happened to a younger generation. And yet it did happen. My father joined up after the attack at Pearl Harbor. That attack was all the motivation he needed--well, that and the fear that he would get drafted into the infantry--to leave the home he had not strayed more than fifty miles from in his life to that point in order to defeat the curse of fascism. But in Vietnam, the closest thing to a provocation had been the nonsense of the Gulf of Tonkin incident which, even at the time, most people didn't believe and which, it turned out, never actually happened. So brutality and dehumanization became essential in a war that was about (a) enriching Brown & Root (later absorbed by Halliburton), Bell Helicopter and General Dynamics, and (b) body counts. Body counts? Sir, yes, sir. The Vietnamese government estimated in 1995 that four million civilians died in that twenty-year war. The Hanoi government revealed on April 3 of that year that the true civilian casualties of the Vietnam War were 2,000,000 in the north, 2,000,000 in the south. Military casualties were 1.1 million killed and 600,000 wounded in 21 years of war.
58,212 Americans died.
I cannot recommend Winter Soldier too highly. It will rip you apart. It will also help you make sense of our second film, The Weather Underground. Directed by Sam Green and Bill Siegel, two men who give the movie an aroma/perfume of PBS, TWU tries very hard to establish the context in which Bernadine Dohrn, Mark Rudd, Bill Ayers and others struggled to bring the war home to America through the use of provocation and violence. That context, of course, was the war being waged against a people ten thousand miles away, one which good and solid American people may have felt was getting just a little too damned much media coverage, the kind of stuff that, you know, radicalized the youth of the day.
The young Dohrn comes across quite bloodthirsty in the early footage and a teenage Rudd appears just as obnoxious as his reputation suggested. The thirty to one hundred members of what was originally called The Weathermen--the result of a 1969 split within Students for a Democratic Society--broke windows, robbed banks and placed bombs. Mostly, however, they drew the attention of the FBI, an organization prone to violating the law in the name of upholding it. The Weather Underground also did a good job of getting itself killed, as when on March 6, 1970, Terry Robbins, Diana Oughton and Teddy Gold died when a bomb the group had been constructing in a Greenwich Village townhouse blew them to kingdom come. Kathy Boudin, one of two survivors in the group, went on to participate in the Brinks robbery. She was finally released from prison in 2003. There is absolutely no mention whatsoever of Boudin in this documentary.
I will say that without the context of Winter Soldier, or at least a memory of and emotional connection to the atrocities of the war in Vietnam, it is hard to develop much sympathies for this group of people who, in all sincerity, were trying to show Americans what it felt or at least looked like to have combat in the streets. What the film does not admit--and what ultimately dooms it to artistic failure--is the youthful exuberance and downright energy of being a kid in Sixties America. These were smart, mostly college-educated young folks to whom the old days of the bridge over the river Kwai may have been an abstraction but to whom the contemporary sight of their brothers coming home in boxes was a reality, as was the nightly news reports of villages strafed, civilians slaughtered, and senselessness shared.
We still do not see that these days. We do not see the news reports of coffins beneath draped flags. We do not see the cemeteries. We do see stupid video games that glorify murder in combat.
Vietnam did not have "embedded" reporters. Iraq did. Afghanistan does. And yet chances are we know less about what has happened there than the average sixteen-year-old knew about Vietnam a generation or two ago. Maybe that is why there has yet to be a Weather Underground II.
By Phil Mershon