THE INTERNATIONALE ISSUE
France is a great country as anyone who was born there will be happy to acknowledge. We thought it would be interesting to find out what kind of television programs or programmes are popular in our friendly neighbor across the ocean. Here is what we learned.
France has lots and lots of television networks. The most popular of these are TF1, M6, France 2, Canal+ and France 24. Just as in les Etats Unis, these networks broadcast twenty-four hours a day. Here are the kind of offerings they present.
TF1, which stands for Television
Française, is a private concern which plays some shows of which you may have heard, such as "Dexter," "Dr. House," "Grey's Anatomy," as well as "Esprits Criminels," "The Voice," and "Gossip Girl."
The most profitable privatized French station is M6, which despite sounding like an offshoot of a British intelligence agency actually does quite well for itself, offering viewers news, reality shows, and recycled American TV, respectively represented by "66 Minutes," "Belle toute nue" (How to Look Good Naked), and "Glee."
When it isn't busy being kidnapped by the Lebanese or shot at by people from the Gaza Strip, the state-owned France 2, a public television station, airs French translations of "The O.C.," "Without a Trace," and "Committed," along with "Minuit, le soir," "Samantha oups!," and "That's So Raven!"
It would seem that Canal+, a premium subscription-only network, offers the best material, which is a little surprising since it is part of a hideous conglomerate called the Canal+ Group, which is owned by Vivendi SA, which is owned by NBC Universal, which is owned by Comcast, which probably owns your house. Canal+ is responsible for the creation of many French-only programmes, such as "Les Guignols de l'info," "Jamel Comedy Club," "Djihad," and "La grand journal." They are also happily supplemented with a panoply of some of the least annoying American shows, including "The Office," "The New Adventures of Old Christine," "30 Rock" and "It's Always Sunny in Philadelphia."
Finally, headquartered in Issy-les-Moulineaux, a Parisian suburb, France 24 is a world news station broadcasting in French, English and Arabic, although not simultaneously over the same receiver, with the intent of presenting international news in accordance with a French perspective and reinforcing French values, according to the company's mission statement. Aimed at the overseas market, the station even boasts its own iPhone app. In the U.S., your satellite provider can get it for you if you live in NYC, DC, Philadelphia or Atlanta. If you do watch it, what you'll see are programs called "Beyond Business," "Culture Critique," "France bon appetit" and "Media Watch."
Speaking of television, in case you haven't heard, the 2012 Summer Olympics will be in London, England from July 27 through August 12. That should be fun. During that seventeen-day period, only 75 of London's 138 crown courtrooms will be operational due to concerns over travel procedures. Meanwhile, East End landlords, who deserve a taste of incarceration themselves, have been evicting tenants in order to charge Olympic visitors up to six thousand pounds a week for a place to stay. British
Housing Minister Grant Shapps said: "Landlords should be under no doubt that it is a criminal offense for them to evict a tenant without giving proper notice, and that anyone found guilty of doing this--or of harassing a tenant--could lead to a custodial sentence of up to two years."
In the Occupy Movement, May 12 is an international day of action and this is no less true in lovely London, where protesters look forward to a day
with a teach-out at St. Paul's at 1pm, organized by the Tent City University, the educational arm of Occupy London. It aims at promoting informed political action and exploring viable economic alternatives before visiting the City institutions that caused and continue to profit by the economic crisis.
The day hopes to see citizens using peaceful, creative ways to deliver their own messages to the financial and corporate elite of the City.
And to look at the weather, the rain in Jaen, Spain, will be mostly nonexistent today, although the skies will be clear and the temperature around 78 degrees Fahrenheit.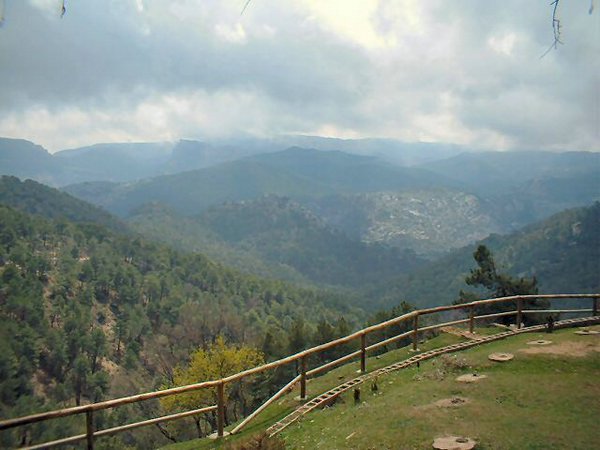 Since we began today's broadcast--by Gog and Magog--with a look at television, it only seems proper that we should conclude with a bit more, this time a look at what we Yanks like to call Link-TV, one of the few enjoyable networks available to the discerning American eye-socket. Again, we can let the program titles speak for themselves. Turn on your set and here's what you'll get: "Mosaic: World News From the Middle East," "The Glow of White Women," "Democracy Now!," "World Music Blocks," "Survivor's Guide to Work," "Guardians of the Rain Forest," and "The Motherhood Manifesto," to name but a few. They actually do offer these programs and many others, things you simply will not see elsewhere and the only drag about any of it is that someone from the network is constantly hitting you up for money because Link-TV takes and receives no money from the satellite or cable companies and runs zero advertising, and so they get all their funding from the likes of you and me and quite frankly I haven't been shouldering much of the load. But whether it's world cinema, documentaries, news and activism or world music, Link-TV is a great place to join in the phosphor-dot experience, so check it out right away.
PhilroPost is relatively popular among users in the cities of Idaho Falls-Pocatello (where it is ranked #671) and Boise (#897), and visitors to Philropost.blogspot.com spend about 21 minutes per visit to the site. Go figure.
Hot Pages
http://shine.yahoo.com/team-mom/best-country-raising-kids-report-says-...

Think that the U.S. is the ideal country in which to be a mom? A new report says otherwise.The United States may be a wealthy, privileged, industrialized nation, but when it comes to being an ideal place to raise a family, it ranks well below several European countries.

shine.yahoo.com

Charlize Theron Flies the Friendly Skies — with Son Jackson!

http://omg.yahoo.com/blogs/goddess/charlize-theron-flies-friendly-skie...

Danielynn Birkhead, the now-5-year-old daughter of the late Anna Nicole Smith, attended the 138th Kentucky Derby over the weekend with her father, Larry Birkhead, and boy, is she the spitting image of her late mother. Find out how she paid homage to her mom through her wardrobe! Plus, Justin Bieber hits the boxing ring, and you might be surprised to find out who trims Beyonce's hair.

omg.yahoo.com

http://health.yahoo.net/experts/dayinhealth/worst-habits-your-heart

Lifestyle factors you can easily change account for more than 90 percent of heart attack risk, a landmark study of about 30,000 people in 52 countries suggests. And making small, positive changes in your everyday habits can have a surprisingly big impact on your heart health-or even save your life. | Here's a look at six of the worst habits for your heart, and how to turn them around.

health.yahoo.net

Playboy model steals the show at Mexican election debate

http://www.reuters.com/article/2012/05/07/entertainment-us-mexico-elec...

Playboy model steals the show at Mexican election debate | Reuters Reuters Edition: U.S. Africa Arabic Argentina Brazil Canada China France Germany India Italy Japan Latin America Mexico Russia Spain United Kingdom Home Business Business Home Economy Technology Media Small Business Legal Deals Earnings Social Pulse Business Video The Freeland File Markets Markets Home U.S.

www.reuters.com

http://usnews.msnbc.msn.com/_news/2012/05/07/11586979-fbi-bodies-ident...

A Tennessee medical examiner identified two bodies Monday as those of Jo Ann Bain and her eldest daughter, Adrienne, 14, who are believed to have been abducted from their home in Whiteville, Tenn. on April 27. | Two other girls - Alexandria Bain, 12, and Kyliyah Bain, 8 - are believed to be with the man police have identified as the kidnapper, family friend Adam Mayes. | The bodies of Jo Ann and Adrienne were found Saturday behind Mayes' home near Guntown, Miss.

usnews.msnbc.msn.com

Thomas Kinkade Cause Of Death: Painter Died Of Drug And Alcohol Overdose, Coroner Rules

http://www.huffingtonpost.com/2012/05/07/painter-thomas-kinkade-autops...

LOS ANGELES, May 7 (Reuters) - | FRONT PAGE | POLITICS2012 BLOGHUFFPOST HILL2012 ELECTIONSFUNDRACEGREENPOLLSTERSPECULATRONOFF THE BUS | BUSINESSSMALL BUSINESSMONEY | ENTERTAINMENTCELEBRITYENTERTAINMENTMUSICRADIOMOVIESTVGAMESCOMEDY | TECHTECHTECHCRUNCHJOYSTIQSCIENCEENGADGETAPPLE BLOG | MEDIA | LIFE & STYLESTYLE NEWSSTYLELISTFOOD NEWSWEDDINGSPARENTSGREENTRAVELSTYLELIST HOMEKITCHEN DAILYDIVORCEHUFF/POST50RELIGION | CULTUREARTSPARENTSTRAVELCOLLEGERELIGIONIMPACTBOOKSEDUCATION | COMEDY | HEALTHY LIVINGHEALTH AND

www.huffingtonpost.com

http://now.msn.com/now/0507-misprinted-lottery-ticket.aspx

Man's $1 million scratch ticket was a misprint, officials say image beacon Go to the MSN homepage NOW News Health News Local News NBC Nightly News Politics Powerwall Tech & Science Today US News Video Weather World News Entertainment Blogs Celebrities Comedy Entertainment News Games Movies Music New on DVD TV Video Sports Fantasy Games Golf MLB NASCAR NBA NCAA Basketball NCAA Football NFL NHL Soccer Tennis Video Money Autos Business News Careers & Jobs Investing My Money Personal Finance Quotes Real Estate

now.msn.com

http://espn.go.com/new-york/mlb/story/_/id/7904193/mariano-rivera-new-...

NEW YORK -- The agent for Mariano Rivera said that the evaluation of the 42-year-old Yankees reliever's injured knee did not go smoothly on Monday. | "We ran into complications," agent Fernando Cuza told the New York Post. "I am referring to Dr. (Christopher) Ahmad and (Yankees general manager) Brian Cashman for further information." | Ahmad is the Yankees' team physician.

espn.go.com

US Stocks: Stocks Slump 1% on Greece, All S&P Sectors Fall

http://www.cnbc.com/id/47337188

Stocks fell heavily across the board Tuesday, tracking sharp declines in Europe, as mounting political unrest in Greece kept investors on edge over how the nation will tackle its ongoing debt crisis. | "My attitude about equities right now has moved from being moderately bearish to moderately apocalyptic," said Tres Knippa of Kenai Capital Management on CNBC's "Squawk on the Street." "What is going on in Europe is an absolute disaster…the risk-on trade is not the place to be.

www.cnbc.com

First Thoughts: Five reasons Lugar likely loses

http://firstread.msnbc.msn.com/_news/2012/05/08/11597065-first-thought...

Five reasons Lugar likely loses … The most overwritten story will be impact of the Tea Party … Biden's gay marriage comments took the White House way off message … Romney continues to struggle with that pivot foot - did he forget how to be a moderate?… Breaking down tonight's races… Ron Paul's supporters will be out in droves at convention.

firstread.msnbc.msn.com