John of Leydon
Whatever else may be said of this cult from the sixteenth century, it must be admitted that their teachings have endured. After all, back in the gloriously confused ages of the Renaissance, not every tribe of simian sociopaths could convince their followers that all knowledge was inherently bad, unless that knowledge came from the Holy Spirit, in which case everything was just fine. The Abecedarians (so-called because they rejected the written word, as symbolized by the first letters of the English alphabet) were labelled Anabaptists, a sobriquet usually reserved for those who did not like them.
The earliest Abecedarian was Nicholas Storch. Nick was a follower of Martin Luther, although eventually the two would become bitter enemies. These Anabaptists believed in the political and social equality of all people, opposed slavery, and even helped in the liberation of of the peasants in Suabia. The group practiced a fairly primitive form of communism in the sense of endorsing the notion of a community of goods and services.
This insurrection was quelled in 1525, when their leaders were beheaded. After this the sectaries dispersed in all directions, spreading their doctrines wherever they went. In 1534 the town of Munster in Westphalia became their center of action. Under the leadership of John Bockhold and Jan Matthys, the group's numbers increased daily, and being joined by the restless spirits of the adjoining towns, they soon made themselves masters of the town and expelled their adversaries. Matthys became their prophet, but he fell in a battle against the Bishop of Munster, one Count Waldeck, who had laid siege to the city. Mister John Bockhold then became leader, assuming the name of John of Leyden, king of the New Jerusalem, and Munster became a theatre of all the excesses of fanaticism, lust, and cruelty. The town was eventually taken in June, 1535, and Bockhold and a great many of his partisans suffered death. This was the last time that the movement assumed anything like political importance.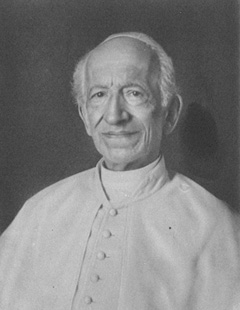 Pope Leo XIII
But who was this John of Leyden? He led a military coup against the rulers of Munster and became king of that city, at least until 1535. It was in that nasty little year that the troops of the prince bishop Frank Von Waldeck defeated the Anabaptists and decided to make an example of Johnny Leyden and his friends Bernhard Krechting and Bernhard Knipperdolling. Indeed, this was a bad time to inspire the name of a future punk star (John Lydon) or to be named Bernhard. All three men were collared at the throat to an iron pole while their executioners used blazing tongs to tear apart their bodies. When thus failed to inflict enough pain, their murders ripped out the men's tongues and stabbed each man with a burning dagger. Their remains were caged and hung overhead so the townspeople could watch the bodies decay and rot.
Ah, but even that was not enough satisfaction for the evil Von Waldeck. The new boss launched expansive rumors about Leyden and his Holy Spirit group, claiming that the sect favor a polygamous theocracy in which women were held subservient and men competed to see who could take on the most wives.
What the Abecedarians forsook regarding the written word they certainly attempted to compensate for when it came to social justice. That is probably the primary reason these folks ended up being not merely killed but tortured unto death.
I mentioned from the outset in a tone that the frequent reader may have misinterpreted as sarcastic that the Abecedarians' philosophies have endured. I actually intend that to be anything but ironic. On the one hand, the group's sense of social justice had a direct effect on the Situationists of the early twentieth century, a group which in turn influenced, among others, the workers and students of Paris who grew tired of police brutality in May 1968 and decided to fight back, unleashing the greatest collective actions of anarchist spirit of that entire decade.
"I forgot the question."
It is, however, the other part of their philosophy that perhaps bears more notice since it has been embraced by everyone from Sarah Palin to Mitt Romney and the corporatistas of American capitalism and its cousins throughout the world. I speak, obviously, of the view that knowledge is in and of itself bad, unless it comes from an irrational place; that is, unless it comes from a position of Faith.
This is significant because it helps explain what I used to find inexplicable. That is to say, it explains the appeal of willful ignorance as well as the apparent compulsion to make up "facts" to support conclusions not otherwise supported by reality. This comes up today because this morning I had the distinct horror of watching a cretinous hooligan named Carly Fiorina, the former Chief Executive Officer of Hewlett-Packard, explain to the cast and crew of "Meet The Press" that capitalism had brought more people out of poverty than had any other economy known to man, or, one presumes, woman. What's troublesome and downright problematic with that assertion (an assertion originally made by no less a scathing social critic than Karl Marx, with whom Ms. Fiorina shares no other similarity) is that she posited it to formulate and support the idea that progressive capitalists such as E.J. Dionne are actually socialists in disguise. Since Dionne and, one presumes, the President of the United States, desire to introduce and maintain social policies favorable to the masses (not that the masses have yet benefited from them or much noticed the efforts), Ms. Fiorina chides them all as an alternative to contemporary capitalists, the neo-capitalists such as one of the three founders of something called Bain Capital, Willard "Mitt" Romney. As an alternative, they must be, de facto, socialists. And if they are socialists, then they clearly support the ultimate violent overthrow of the United States government and the immediate dictatorship of the proletariat. Now, did Carly Fiorina say exactly that? No, of course not. She has stooges such as Rush Limbaugh to handle that type of work for her. But the message is quite clear and holds enormous appeal to Romney's primary constituents in the $100K+ a year group of old white men, many of whom, for reasons I will never comprehend, are avid fans of PhilroPost.
The notion that true knowledge comes from an irrational place was utilized by Pope Leo XIII in his attempt to formulate a definition of what came to be called corporatism. Under Pope Leo, the Italian church came out in favor of trade unionism and against a united working class as called for by the Marxists and anarchists of the late nineteenth century. This favor led directly to the ascension of a hideous thug known as Benito Mussolini.
Today, liberal capitalism is as dead as disco. I watch and listen in amazement as people I genuinely respect and admire marvel at how far right the Republican Party seems to have moved, initiating economic policies that would have horrified even that rascal Ronald Reagan and his brainchild Milton Friedman. There is no mystery to it. The move to what used to be the far right is merely and ultimately the natural progression of the merger of not only state and business interests but of the faith-based business that legitimizes it. We are told to believe in the Bible by men who carry around old copies of the book that the overwhelming majority have never read. Indeed, it appears a point of honor for these assholes to brag about their own ignorance. They need not get confused by the language of the testaments; what they need to know is what God has told their hearts. And that message is that War is Peace, Freedom is Slavery, and (especially) Ignorance is Strength.
"
Corporations are people, my friend… of course they are. Everything corporations earn ultimately goes to the people. Where do you think it goes? Whose pockets? Whose pockets? People's pockets. Human beings, my friend."
Remember that one? A corporation may be comprised of people and may have been built by people, but it is not--despite the insidious Supreme Court rulings over the years--not an actual human being in the sense of a Transformer character.
"
I like being able to fire people who provide services to me."
Once you get beyond the desire to slap your own head and even move beyond the desire to slap Romney's, you are still left with a confusing statement. You see, the government, to Romney's way of thinking, exists to protect and preserve the national defense, so long as that defense manifests itself in the form of dollars for contractors, and to protect his corporations from the people enslaved by them. Anything that serves the people is diverting money from the poor and selfless multinationals and so must be "fired," especially if it helps give sustenance to the working person.
"
I believe in an America where millions of Americans believe in an America that's the America millions of Americans believe in. That's the America I love."
Given Willard's pro-business proclivities and his father's formation of the defunct American Motors Corporation, let's do some word-swapping. "I believe in a car company where millions of car companies believe in a car company that is the car company that millions of car companies believe in. And Detroit should go bankrupt."
Yep. Those Abecedarians were definitely onto something.