People can misinterpret almost anything so that it coincides with views they already hold.
--Stanley Kubrick
As a practising film freak, I find that one of the few but treasured body-shaking mind-melting soul-shattering thrills of this life blasts through the solar plexus of the solar system when I bounce across someone who is of a younger variety than myself and who nevertheless finds him or herself enthralled with movies from my youth with the same enthusiasm that a bipolar methamphetamine addict might bring to a sex orgy. In other words, when some youngster comes over to pour through the DVD collection, hesitates over The Third Man, looks inquiringly at Vertigo, ponders a moment as he or she handles the jewel box of Apocalypse Now, and then sets aside The Shining, turns to me and says, "Hey, uh, what's this one about?" The truth of the matter is that I've met three people between the ages of seventeen and twenty for whom The Shining is their all-time favorite motion picture.
When I told my friend Jim, way back in 1980, that I was going with my friend Sandy to watch The Shining, he told me: "The opening shot where the camera follows the car up the mountain has twenty-six references to Jungian psychology." I had no idea what he was talking about. That was then. Now I am older and much wiser. And I still don't get it. Funny enough, I've read several interviews with Kubrick about this movie and although he always mentions that glorious opening sequence, not once did he say anything about Freud's fallen angel.
The Shining is not my all-time favorite motion picture. It is, however, a movie worthy of watching for fun, fear and fascination. Stanley Kubrick, the movie's director, was one smart cookie. He certainly was not above utilizing a bit of the old symbolism in his images. He was also quite adept at placing all sorts of funny stuff in the margins of his films, as anyone who has read the instructions for the Zero Gravity Toilet in 2001: A Space Odyssey can attest.
Think about it a moment. You're busy building this for your movie--
--something that takes months of meticulous and tedious effort, yet you have the presence of mind and the uncontrollable wit to create instructions for your outer space bathroom. Just amazing.
Because Kubrick had that kind of mind, his art occasionally lent itself to some moderately far out theorizing by enterprising film students, conspiracy buffs, and bored yet horny professorial types with bigger film collections than brain cells.
That brings us with a certain cheerful trepidation to our review of the 2012 documentary Room 237.
If it never occurred to you that Stanley Kubrick had been employed by NASA to help fake the Apollo 11 moon landing and that The Shining was his mea culpa of that act, then listen up, bucko, because apparently we have all been living under a shadow of ignorance. If we had been paying proper attention, we would certainly have noticed that in the scene where Danny--the child of Jack Nicholson and Shelley Duvall in The Shining--gets lulled into going into the mysterious Room 237, the kid is actually wearing an Apollo 11 sweatshirt. Yes! That could be dismissed, I suppose, as some kind of world class coincidence. But wait just a minute, tiger. Why did Kubrick change the room number from 217--which is what it was in the Stephen King novel--to 237? There can only be one iron clad cause. The average distance between the earth and the moon is 237,000 miles. Uh-huh! And you thought that was just a continuity glitch, didn't ya? Huh? You think maybe he should have made the room number 237,000? Well, I know that hotel was big and had a lot of rooms, but there's such a thing as verisimilitude, remember.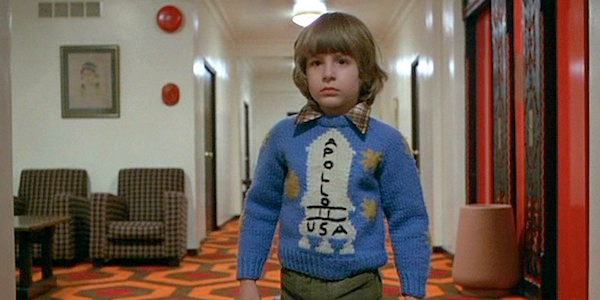 Of course, director Rodney Ascher wouldn't base an entire documentary around just one theory. No! He culls together some vibrant and exciting images--many of them either quite discreet or else unintentional--alongside some (probably) whackadoo suggestions as to meaning. See, I thought The Shining was a movie about a kid named Danny who possessed a prescience activated by a combination of child abuse and anxiety over relocating. That prescience involves his father Jack getting a job as caretaker for the Overlook Hotel (conveniently called The Stanley in real life), moving the family into the hotel and the ultimate discovery that "You have always been the caretaker, Mr. Torrance." I have also always believed that Kubrick's genius, if you want to call it that, was in manipulating the audience to pull for the bad guy, Jack Torrance, and against the good woman, Wendy, with the kid Danny being the more or less boring instrument in between the two. Jack gets all the good shots, the funny lines, the strength and power. Wendy is made to come across as undesirable and impotent. That kind of audience coercion happens in a lot of Kubrick movies and it was no big surprise in this one. (Stanley Kubrick himself--and one supposes he should know--viewed the Wendy Torrance character very differently. He said: "Shelley seemed to be exactly the kind of woman that would marry Jack and be stuck with him. The wonderful thing about Shelley is her eccentric quality -- the way she talks, the way she moves, the way her nervous system is put together.")
Wellee wellee wellee well. It turns out I don't know shit from shinola. It seems that the real vision of this film was an exculpation of the Indo-European man's guilt at the genocide of the American Indian. Early on, the manager of the hotel tells Jack and Wendy that the hotel has been built over an old Indian burial ground. But once we get inside the pantry, Scatman Crothers talks to Wendy and Danny about where the various food stuffs are and sure enough, right behind Scatman's bald old head there's a container of Calumet baking powder.
You know and I know what that means. Actually, you might know, but I don't have a clue. That's okay. Becoming more confused than you were before you watched Room 237 is half the fun.
The truth is that this movie actually does bring up some very interesting trivia, such as the fact that the magazine that Nicholson is reading in the hotel while having lunch is a Playgirl. Or that the color of the German typewriter he uses to write his All Work and No Play manuscript changes color several times in the film. Or that during the scene where Wendy goes into the typing room to talk to Jack, a chair behind Nicholson is there half the time and gone the other half. Oh! And we even find out that Kubrick knew in advance that Stephen King wasn't going to like the movie so instead of having the Torrance family drive to the Overlook in a red VW Beetle, Kubrick puts them in a yellow bug, but later on, when Mr. Halloran comes to rescue them, he drives by a semi that has crushed a red VW Beetle, which obviously was the director's way of telling the writer what the one thought of the other--or something.
Except for some people quite rightly feeling a bit ripped off at paying to see a movie that is so obviously a sham that the word "camp" does not even begin to scratch the epidermis, there's very little about Room 237 that's worth getting outraged about. If anything, the minutiae might entice people to go back and rewatch a lot of art movies with an eye toward continuity glitches versus deliberate muckery. To that end, the only thing that the makers of this film get across is the suggestion that Kubrick was too much of a perfectionist for some of these things to have simply "happened." I don't have a response to that. Then again, I did not purport to make a documentary about The Shining. Had I done so, I might have at least made an attempt to contact the Kubrick Estate. Or they might have at least bothered to read through the old interviews Kubrick gave about his movie. Had they done this, they might have come upon a far more interesting subject, which is why do most of the adaptations of Stephen King novels into movies typically suck dead dongs, while The Shining (and Carrie and Silver Bullet and maybe The Green Mile and certainly Shawshank Redemption, which was a novella) was such a masterpiece. Had the director done his homework, he would have unearthed such fascinating Kubrick quotes as: "It is in the pruning down phase that the undoing of great novels usually occurs because so much of what is good about them has to do with the fineness of the writing, the insight of the author and often the density of the story. But The Shining was a different matter. Its virtues lay almost entirely in the plot, and it didn't prove to be very much of a problem to adapt it into the screenplay form." Kubrick goes on to make it clear that he never considered the novel to be any kind of art at all, certainly not high literature, and so he had no compunctions whatsoever in redirecting, as it were, the emphasis of the story, and in the process, pissing the shit out of quite a few King fans.
But he never once copped to helping NASA fake the moon landing. Damn.
"Part of my problem is that I cannot dispel the myths that have somehow accumulated over the years. Somebody writes something, it's completely off the wall, but it gets filed and repeated until everyone believes it."